Le Domaine du Clarys
OUR PARTNERS
To make sure you holiday in the Vendée is unforgettable, the team at Le Domaine du Clarys have set up a range of local partnerships with activity providers. These give you special exclusive prices! Feel free to ask our receptionists for more information at any point during your holiday.
COMPAGNIE VENDÉENNE - ÎLE D'YEU
From Le Domaine du Clarys, you can travel to beautiful Yeu island off the Atlantic coast.
The varied landscapes on Yeu delight people of all ages. In the west, the rocky cliffs along the coast are just begging to be explored. In the north and east, relaxation is the watchword, with big beaches and coves dotted with schist rock.
Places to visit on Yeu island:
Le Grand Phare lighthouse;
La Pointe du Châtelet cape;
Le Vieux Château castle;
Le Port de la Meule;
La Chapelle Notre-Dame de Bonne Nouvelle chapel;
Le Port des Vieilles;
La Pointe des Corbeaux lighthouse;
Saint Sauveur village;
Le Musee de la Pêche fishing museum;
Port Joinville.
Find out more on the Compagnie Vendéenne website.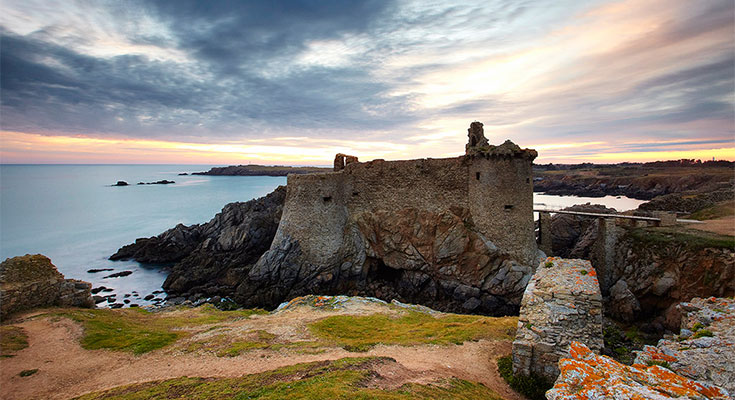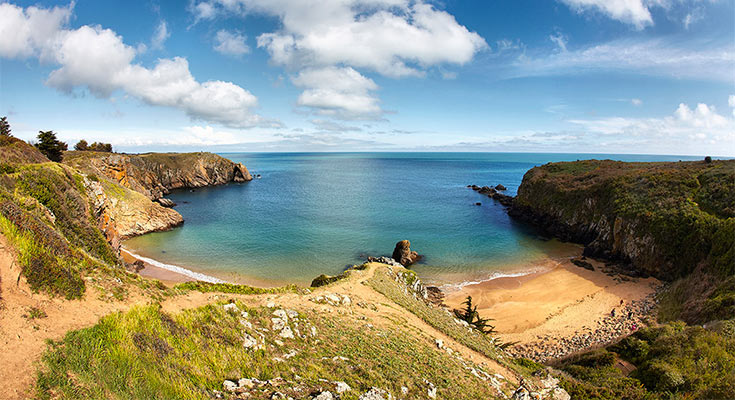 PUY DU FOU
Have a wonderful time at one of France's favourite theme parks, Puy du Fou.
You'll find lots of amazing shows, epic adventures and excitement to be had at this legendary attraction. Enjoy a unique experience with friends or family at Puy du Fou, voted "Best Theme Park in the World" at the Thea Awards!
Nature lovers will enjoy the deer clearing, the floral valley, the rose garden and the animal maze. A trip to Puy du Fou takes you on a journey back in time to a medieval city. Stroll through an 18th-century village and visit a 1990 burg. The fort from the year 1000 will certainly make an impression.
Find out more on the Puy du Fou website.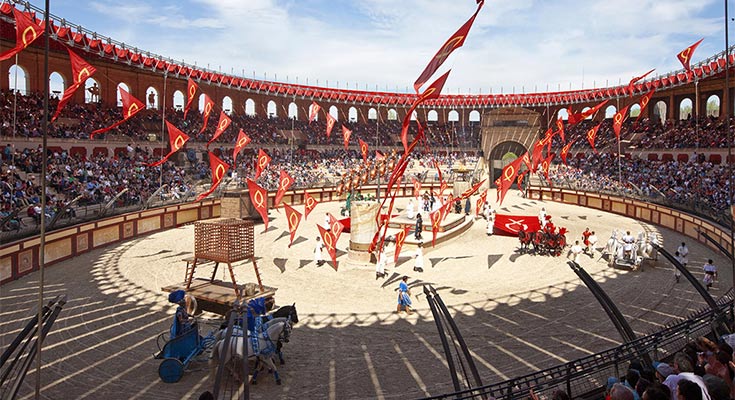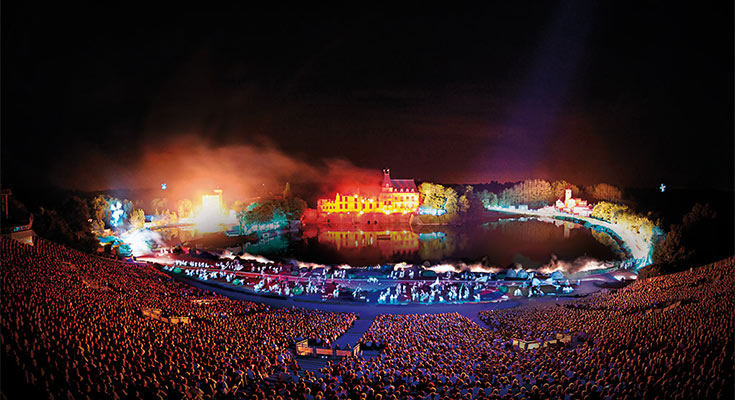 PLANÈTE SAUVAGE
Planète Sauvage is an animal park like no other in France: it transports you to five magical worlds. Meet 1100 animals and 120 different species during your day out on foot and by car. This gets you up close and personal with the wild animals.
In the Cité Marine area, you can come face to face with dolphins in a unique pool area.
Just 15 minutes from Nantes, this animal park is a good place to see animals in their natural habitats.
Find out more on the Planète Sauvage website.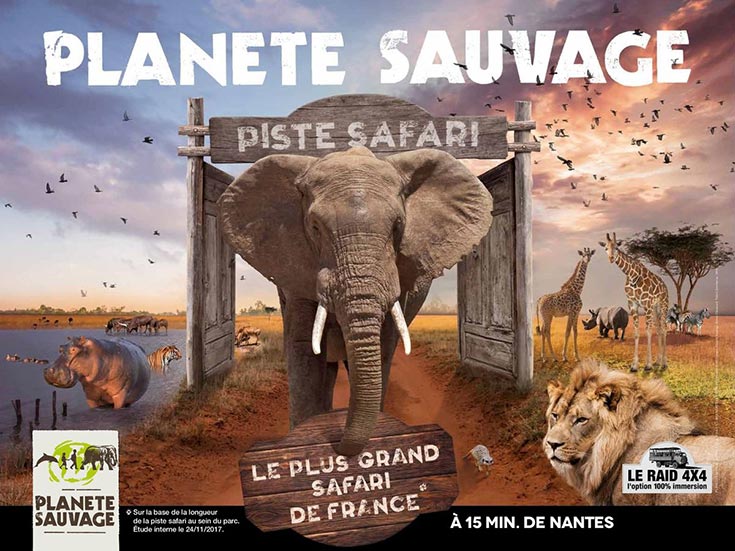 LE GRAND DÉFI - ACTIVITY PARK
In this beautiful setting, you can have a go at treetop adventures, paintballing, galactic laser tag, Explor'Game disc golf, orienteering, the quick jump and pony rides.
Le Grand Défi is an activity park with lots on offer. Everyone aged over two can get involved in the activities.
With 33 treetop trails, five paintball venues, an 18-hole disc golf course and nine levels of orienteering courses, the whole family can enjoy a fun day out here with some new experiences along the way.
Find out more on the Le Grand Défi website.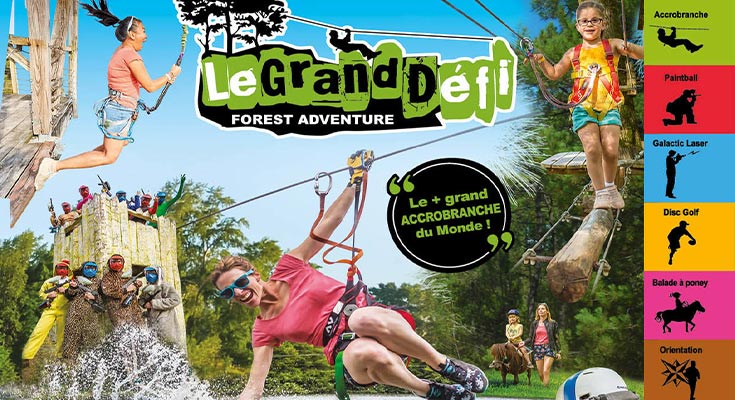 TOURIST TRAIN
Want to go on a tourist train in the Vendée?
From Le Domaine du Clarys, you can take one along the Vendée coastal road. This opens up unique ocean views. After your train ride, you could visit the unusual and stunning salt marsh. Listen as the salt maker shares the secrets of this exciting age-old occupation.
If you want to learn even more about the wonders of the marsh, you can watch an exciting and moving film about life here over the four seasons. The tourist train ride ends with a tasting.
Good to know:
Trip lasts around 3 hours 15 minutes.
The order of visits may be subject to change without notice.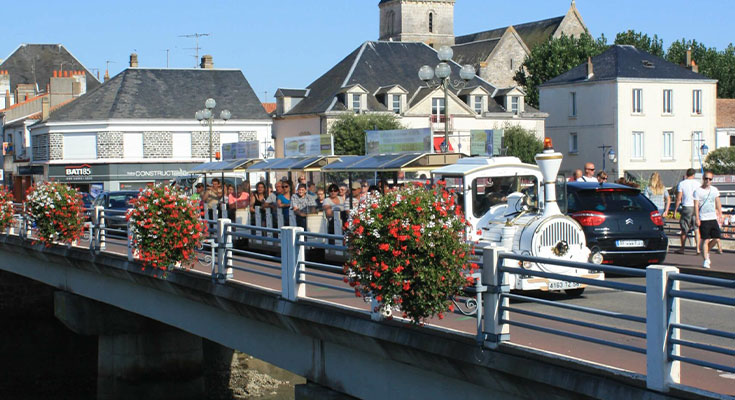 VENDÉE MINIATURE
Travel through time by visiting Vendée Miniature model village. Discover what the Vendée used to be like by visiting a Bocage village at 1:10 scale.
Vendée Miniature is considered one of the nicest model villages in France and has 650 little characters. It took Marie-Françoise and Yves Aubron 16 years to make and every detail has been carefully considered. During your visit, you can see the three-metre church, 80,000 handmade tiles, 25,000 real slates, 1600 railway sleepers and 30 trades and businesses represented in the village.
Good to know:
Visits take around an hour
Find out more on the Vendée Miniature website.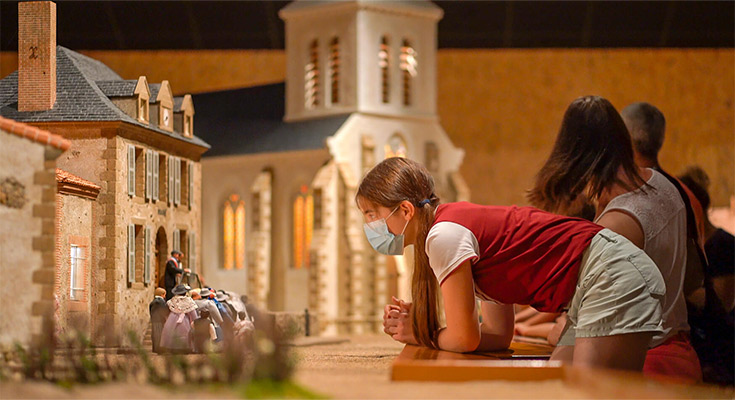 LES CANOËS DU MARAIS
Setting off from Givrand, paddle with family or friends through one of the Vendée's most beautiful landscapes. The Jaunay, River is calm and free of currents, making it safe and accessible to all.
The day takes you through a variety of natural panoramas in a protected Natura 2000 area. Travel along wetland waterways, through forest and past dunes before arriving in the centre of Saint-Gilles-Croix-de-Vie. While you're stopped, enjoy visiting the market, beach, port, restaurants and many shops.
There are also night-time sessions in July and August for anyone feeling adventurous.
Find out more on the Canoës du Marais website.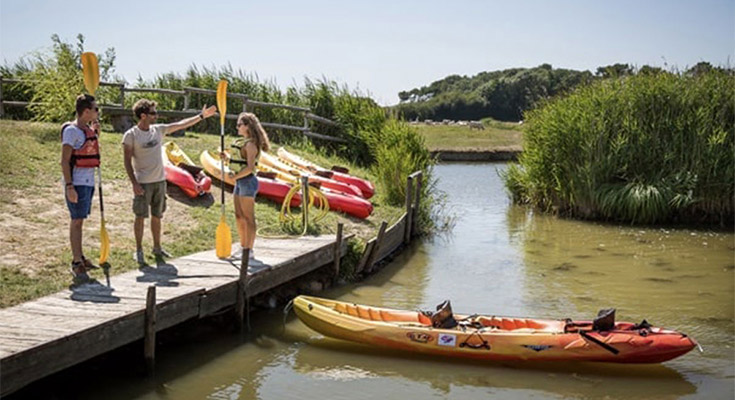 ATLANTIC TOBOGGAN
Looking for a waterpark in the Vendée? Then you'll want to know about Atlantic Toboggan.
Located in the heart of the Vendée in Saint-Hilaire-de-Riez, this fun and welcoming attraction is a great place to have an unforgettable time with family or friends.
It's a green site perfect for some fun and relaxation. With eight slides, a kids' playground, a relaxation area with jacuzzis, a lazy river with rubber rings and a wave pool, the whole family will be happy here.
Find out more on the Atlantic Toboggan website.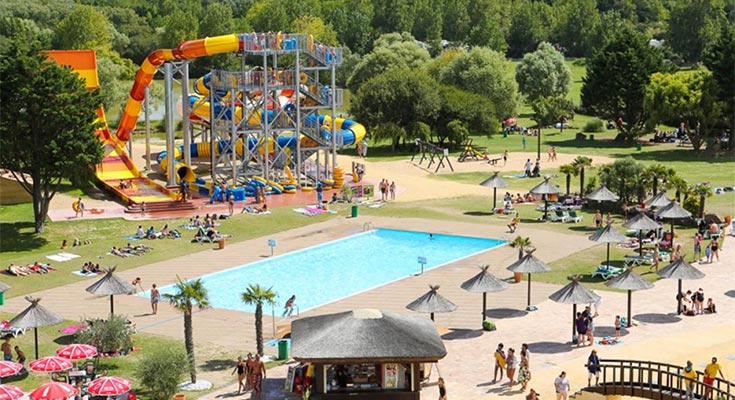 THE GLASSY HOUSE
Imagine an artificial wave that could have its size changed and be surfed forever…
In Saint Gilles-Croix-de-Vie, The Glassy House is a magical place for surfing enthusiasts. The wave can be adjusted for all levels and makes surfing safe. A state-certified instructor and a lifeguard are also present at all times. This amazing wave was inspired by a standing wave on the Eisbach River near Munich.
Surfers can use their usual boards on The Glassy House's wave. Beginners can learn to surf here too. And the weather conditions are always ideal! The pool is set to 24°C, and the wave can be up to 1.5 metres and infinitely long.
Find out more on The Glassy House website.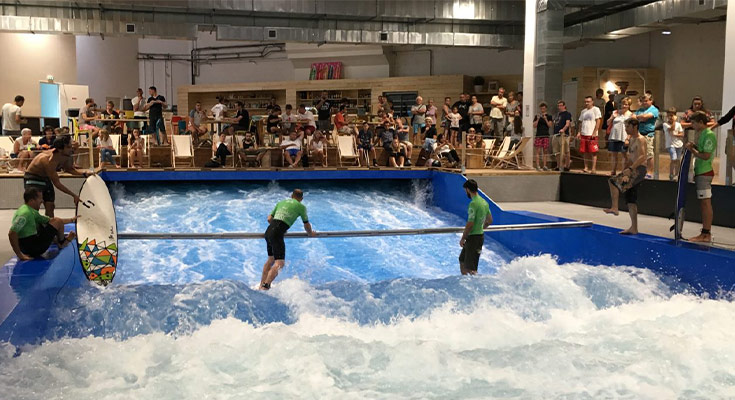 DISCOVER THE SURROUNDINGS OF LE DOMAINE DU CLARYS