Le Domaine du Clarys
WATER PARK
Enjoy a refreshing holiday by spending time at Le Domaine du Clarys campsite's huge waterpark. Guests of all ages will have an unforgettable time in this congenial setting.
A REAL WATER PARK
The waterpark at Le Domaine du Clarys campsite is like a theme park. There are lots of fun things to do, so everyone can have fun in a way that suits them.
Those who like slides will enjoy our dizzying SpaceBowl. The sphere will whizz you round for a mind-blowingly good time. With the individual slides and racer slides, kids of all ages can have a go and safely emerge in the pools at the bottom.
The waterpark also has some lovely areas to rest, relax and read. Soak up the Vendée sun on a lounger.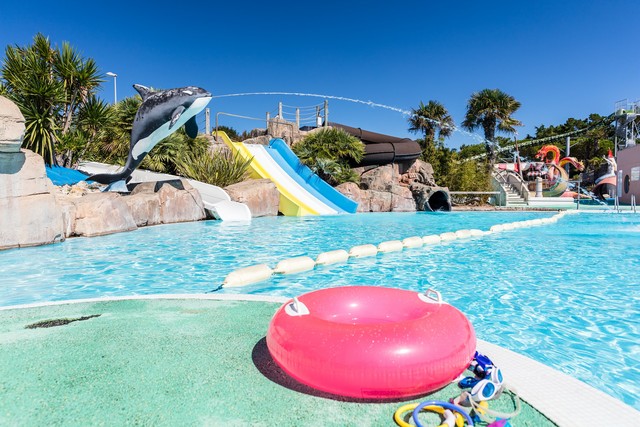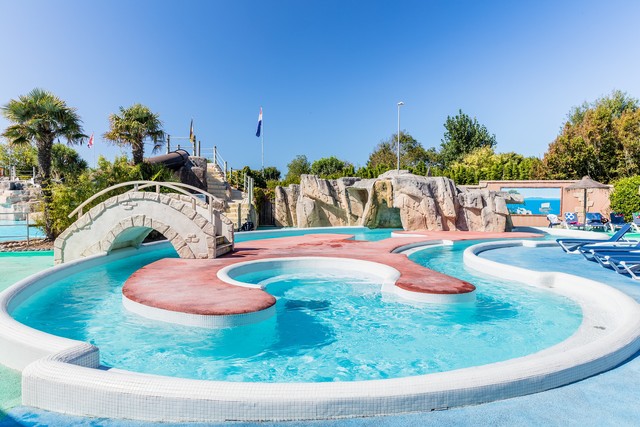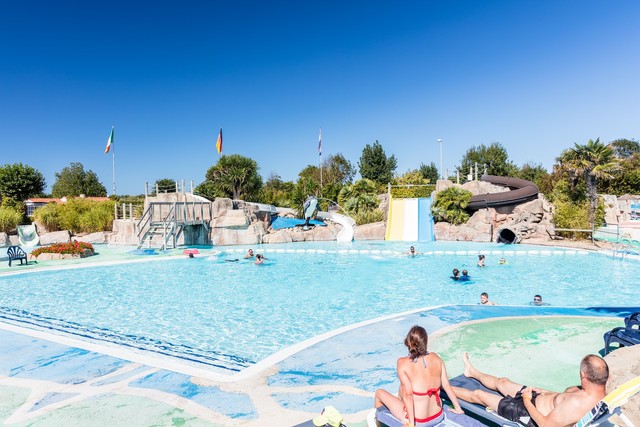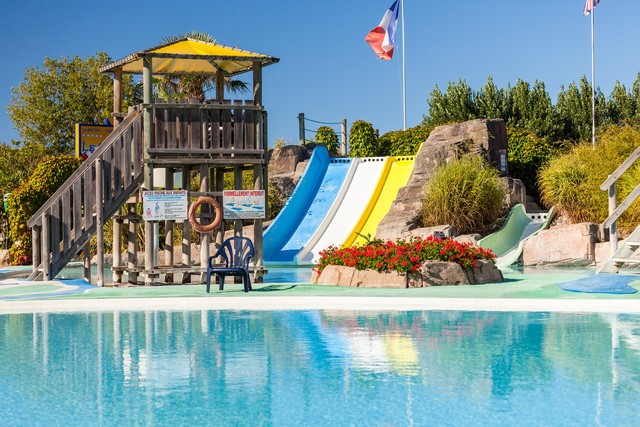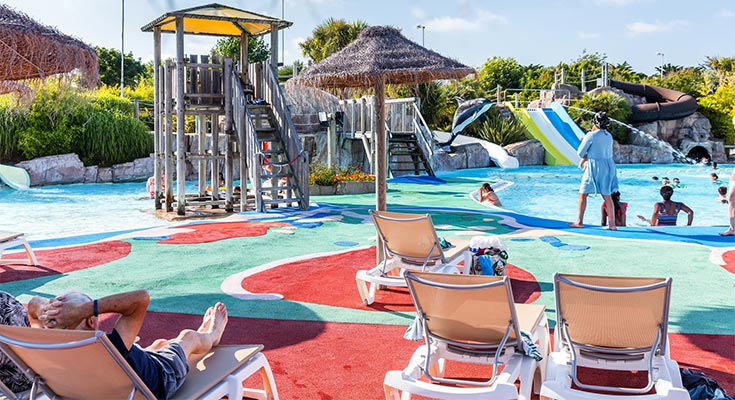 AN AQUALUDIC PLAYGROUND
Swim through lagoons, pools and rivers. In this space specially designed for unforgettable memories, you can swim and forget your worries as you enjoy the water fun on offer.
At Le Domaine du Clarys campsite, you can have a refreshing holiday at a facility like no other in the region. Our fantastic waterpark is a magical place with a dragon, a hydra, a serpent, hopscotch, a water cannon, an urn, a goddess, a mermaid, a clam, a waterfall, a river, a Greek column, jets, a jacuzzi, a boat, a Greek galley, a rock, a tower, a fortress and a tunnel, all there to fire the imagination and get everyone having fun.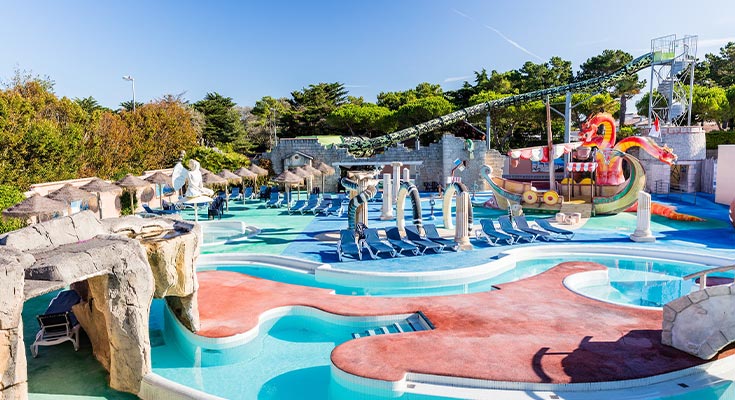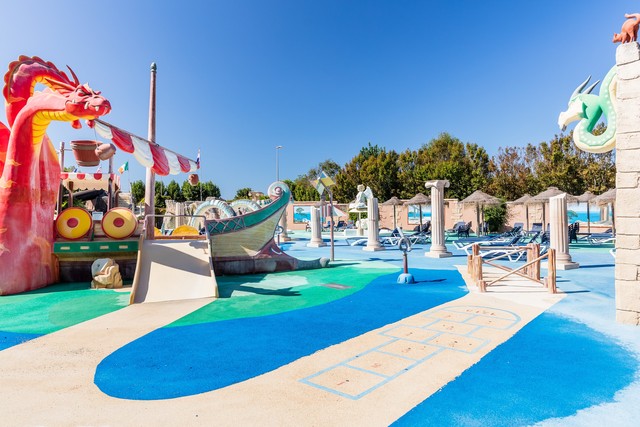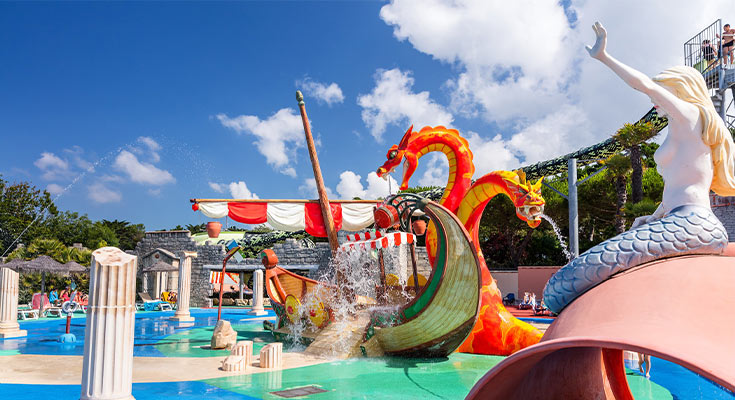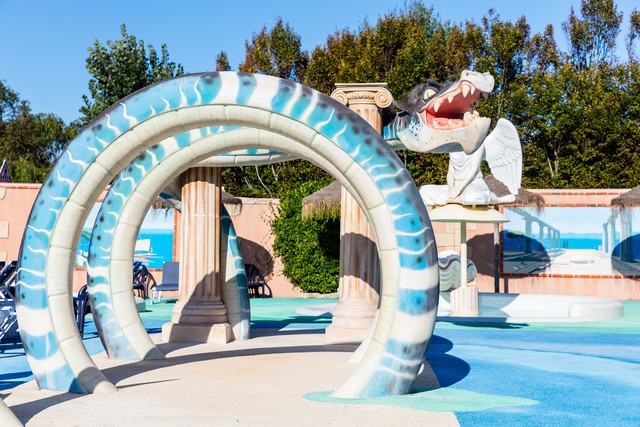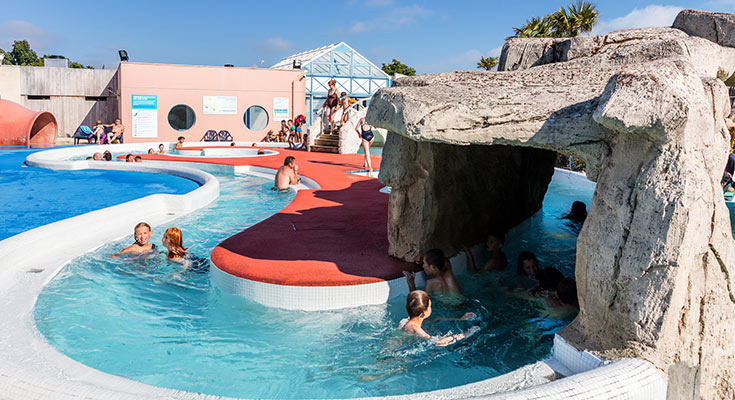 SENSATIONAL SLIDES
Thrillseekers will be happy to spend hours at our campsite's waterpark.
The 10-metre SpaceBowl whizzes you round a series of bends. The four slides are a recipe for fun and laughter for all ages!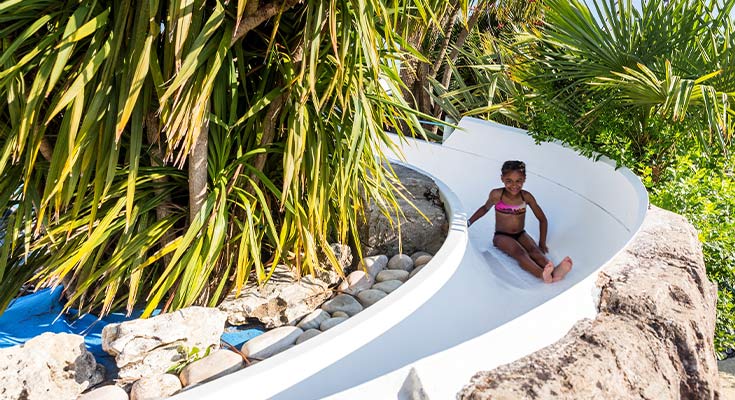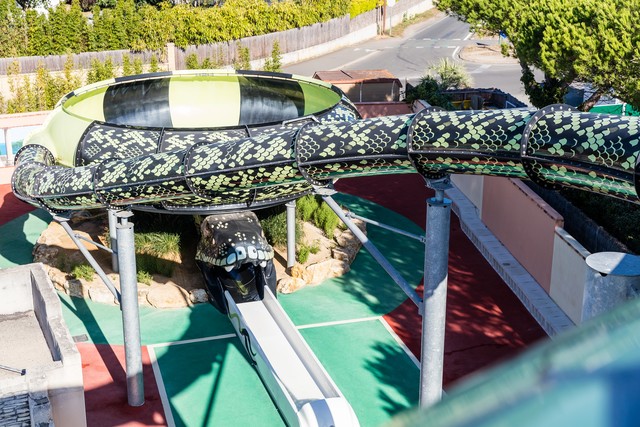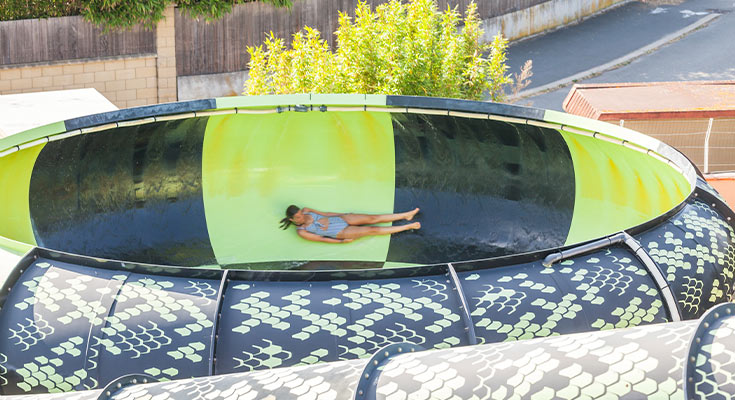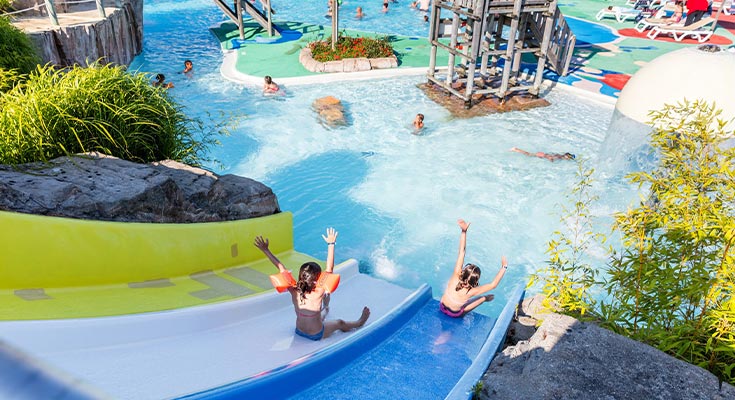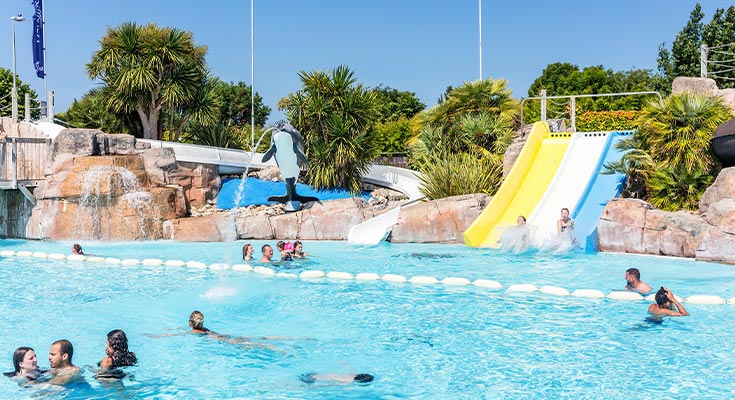 A HEATED INDOOR POOL
Those who feel the cold will also be happy at Le Domaine du Clarys campsite's waterpark. Our indoor pool is a lovely place to be.
No matter the weather, kids and adults in touch with their inner child can have fun in this heated pool.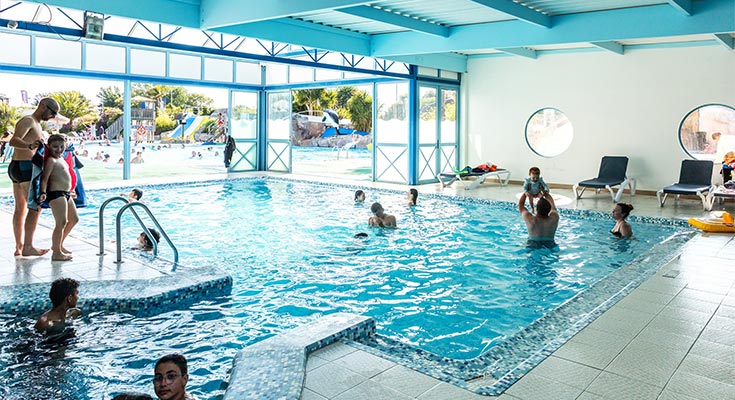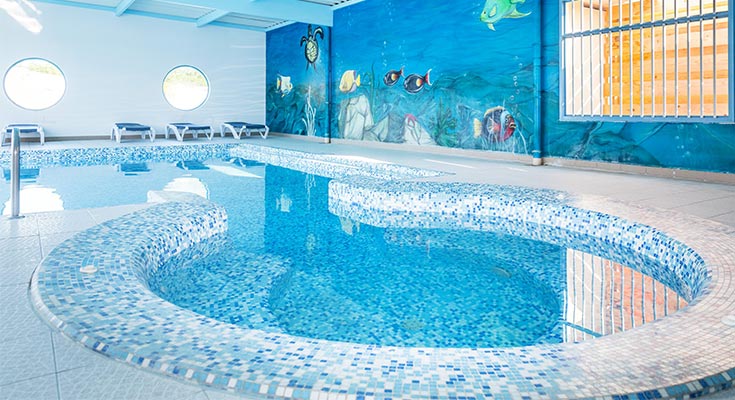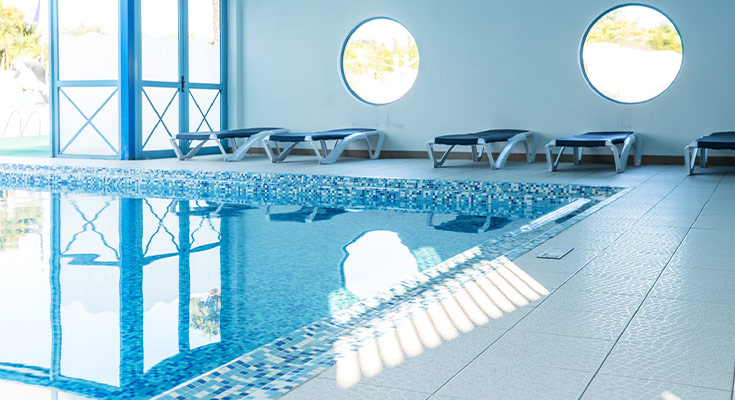 A PLACE TO RELAX
Soak up the Vendée sun in our pool area. Le Domaine du Clarys campsite has a beautiful and intimate swimming pool surrounded by a sunbathing area.
Little ones can have fun in the kids' pool while you enjoy the peace and quiet on your lounger.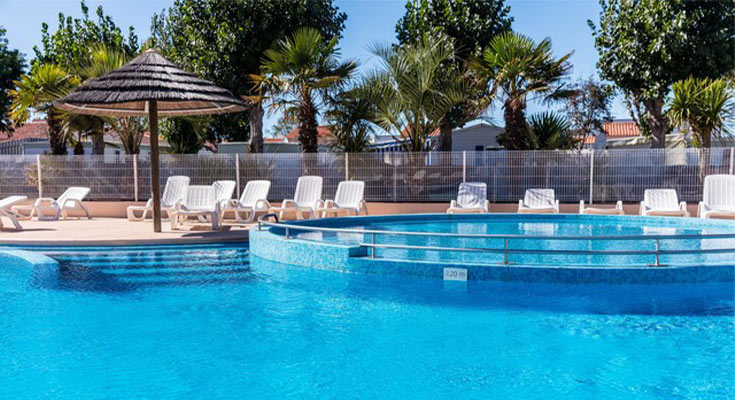 USEFULL INFORMATIONS
Prepare for your stay at Le Domaine du Clarys . This useful information tells you what you need to know about the waterpark at Le Domaine du Clarys.
Waterpark open: early April to mid-September
Outdoor heated pools
Mandatory Wristband
Prohibited Bath Bermuda
Swimming pools are not permitted for children under 12 years of age who are not accompanied by an adult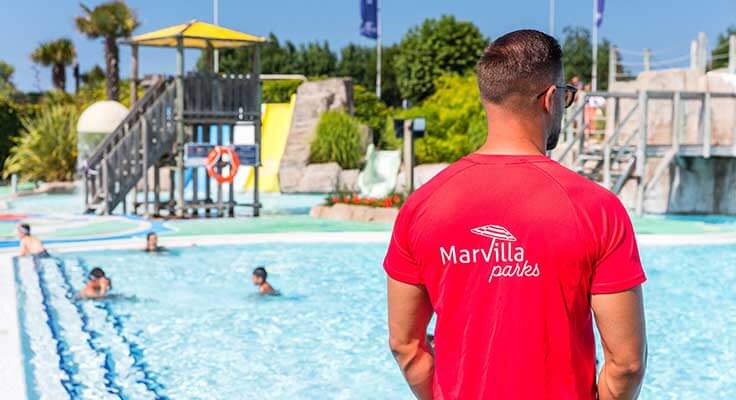 DISCOVER THE ACTIVITIES & ENTERTAINMENT OF THE CAMPSITE